Hotian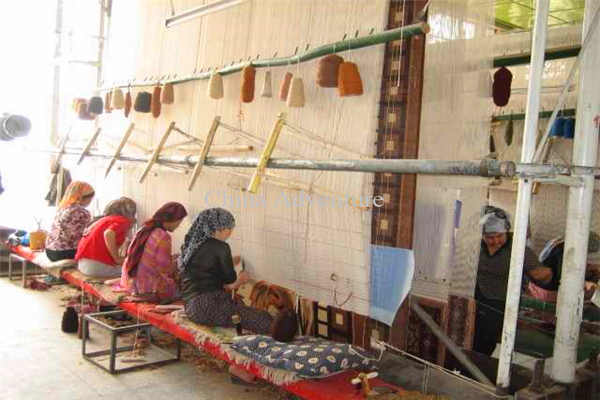 Hotan:
The capital city of Prefecture,located in the southern Xinjiang and on the southern fringes of the Taklamakan desert,northern foot of Karakunlun Mountains. The total area of prefecture is 24 hundred thousand sq kilometers.Hotan links with Kunlun Mountains and Karakunlun Mountains in the south,share the border with Tibet in the south and Kashmir controlled by India and Pakistan in the southwest.Hotan Prefecture is dominated by a dry continental desert climate. It has abundant mineral resources. Hotan carpet has been famous for its variety and high quality since ancient times.Hotan jade is also famous at home and abroad.Ever since ancient times,Hotan jade has been much cherished as the best and much of them were used as tribute to the Chinese Emperors.
Hotan in history:
Hotan had its splendid history and has undergone great changes.Archaeological findings in the area suggest there used to be a very prosperous time in the history,the ruins of ancient Jingjue Kingdon,Shule Settlements,Mingfeng Tombs,Shapla Tombs,Melikawat Site and Ba-erdat Mazar,like every page of the history book of Hotan,remind people of the glories and prosperity of the southern route of the ancient Silk Road.The ancient Yutian Kingdom,one of the important on the Silk Road.Hotan enjoyed a long period of prosperity and peace.And Hotan was also important for the spreading of Islam eastward.
The ancient Yutian had very close contact with the heartland of China,and its sericulture was introduced by a Chinese princes betrothed to the King of Hotan more than 1000 years ago.The event was recorded in Xuanzang's book.Even now,Hotan is the most important silk production site in Xinjiang and various silk products made by a silk factory and thousands of household workshops have a wide market in China and abroad.