The Heavenly Lake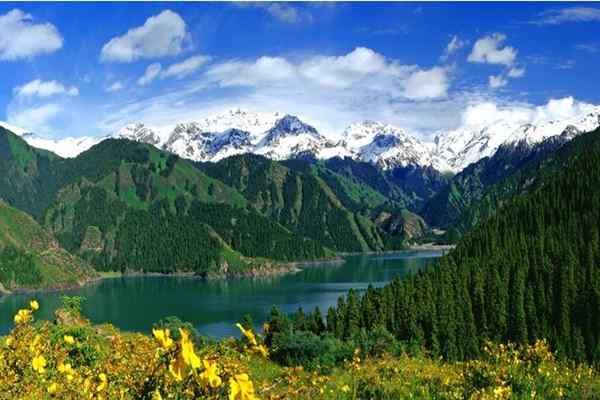 The Heavenly Lake is located about 110 kilometers east of Urumqi,at the foot of Bogada Peak,Tianshan Mountains.The lake,nourisheed by the water coming from the glaciers and accumulated snow covering the peaks and area around them,is about 1900 meters above the sea level. Surrounded by green mountains,it is clean and crystal,When the weather is fine,the shadows of pine trees and snow-white peaks can be seen reflecting in the lake water,which attracts tourists to enjoy themselves so much that they linger about and forget to go back home.
It is now clear that the lake was formed in the Great Ice Age of about two million years ago when there was a very violent ice movement.However,besides its magnificent landscape,the Heavenly Lake attracts people to come here with the mysterious legend which is about the Western Queen whose residence palace was at the Lake,and who entertained Emperor Mu of the Zhou Dynasty,about three thousand years ago.Now the Temple of the Queen is no longer here,nor are the ruins of Wanshou Temple.But tourists believe that they have endless fun by boating in the lake or riding on horseback into the forest around.
The summer Heavenly Lake is a wonderful place for enjoying coolness and leisure and the winter one is a fine skating spot.