1. One day tour of Turpan by Bullet Train
Urumqi - Turpan - Urumqi
we will take bullet train in early morning for 1 hour to Turpan, Then first go to visit the Karez System, a unique irrigation system, and one of the three greatest ancient projects in China. Then we will visit the Ancient City of Jiaohe which was built of rammed earth entirely. Standing in the ruins, you can imagine the past glory of the city 2,300 years ago. After that, our trip continues to Emin Minaret - a landmark of Turpan . The adjoining mosque is large enough to hold more than 1,000 people. Afterwards, we drive to the flaming mountains, which runs 100km in length from Turpan city location, A famous novel"Journey to the west" tells a story happened here about the Monkey king. And the Bezeklik Thousand Buddha Caves is just located on the cliffs of the Mutougou valley in the Flaming Mountains. There are large number of Buddha images on the murals , and the spectacular scenary of the landscape in the valley can also astonish you.
After that, we will drive back to the train station back to Urumqi.
the ruins of Jiaohe city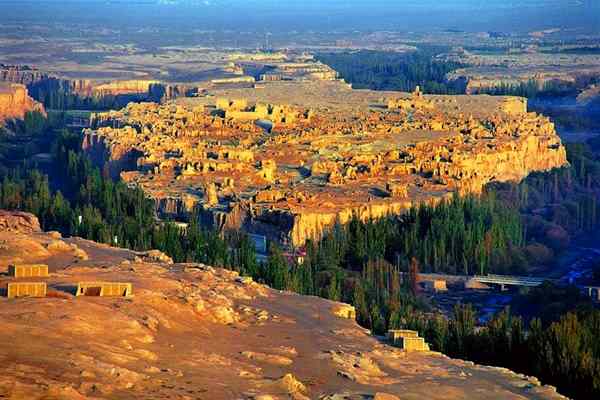 2. One day tour of the heavenly lake and Xinjiang Museum.
Urumqi-Xinjiang Musem - Heavenly lake - Urumqi
After breakfast, we first drive to the Xinjiang Regional Museum, which is a large integrated museum and centre for the collection and study of cultural relics discovered in the region, here you can see three main exibition halls: the hall of history about the western region, the hall of 13 ethnic groups traditional life, and the typical mummy hall where you can see the famous ancient corpse of 'Loulan Beauty' .
Then we will drive to the heavenly lake. Which lies in the middle of Bogda Peak and about 110 km (68 miles) east of Urumqi, it covers an area of 4.9 square kilometers (1.89 square miles). Here you will be amazed at the picturesque scenery of Heavenly Lake reflecting the azure sky and floating clouds. In the late afternoon, we will drive back to Urumqi.